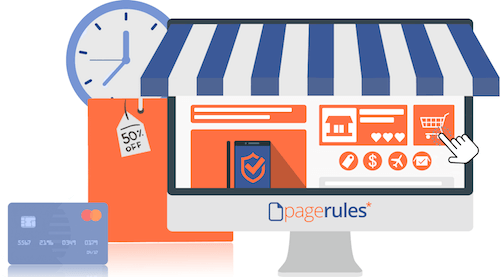 With over 8 years of developing professional platforms for online trading, Page Rules offers the best individual solution to every business. We say, individual, because before we begin any project we review in detail the concept of the business and, in accordance with it, we develop a personalized online store.
What you get?
A system which is, above all, secure, with a mobile version, a professional design, easy navigation, and SEO serviced. We have a specialist who will answer your questions at any given time; you can ask about the development of the online store so that we can make a working platform together.
Unique Design
The design sells in your stead. To be successful, an online store needs to have a design with easy navigation, easy to look at colours, clearly defined buttons and a proper structure which will not repulse, but rather draw in users and turn them into customers.
SEO Serviced Store
The created online store will be optimized for search engines such as Google so that it will rank in higher positions in the search results.
Optimized for mobile devices
Experience has shown us that without a mobile version nearly 30% of users are ready to switch to a competitor; this is why a store optimized for mobile devices is a necessity.
Also, the mobile version is now a main factor which will define the better ranking in Google.
Design, SEO, and the mobile version are only 3 components of the wholesome structure for developing a working online store. Here at Page Rules we know at least 10 more.
What does our online market platform include?
The option to add an unlimited number of products.
The option to add an unlimited number of categories and sub-categories.
The option to search for products – a search engine.
Quick and easy administration.
Rating system for every product.
SEO module (search engine optimization) for meta titles and meta descriptions for products and categories.
An integration of payment options (Epay, Easypay, cash on delivery, transaction, credit card processor, etc.)
Additional filters for sorting by: price, promotion, warranty, delivery, etc.
Module creation: Last seen products, Similar products, Related products, etc.
The option for an ERP module.
Development of a responsive web site design or an entirely separate mobile version (m.site.com).
The option for monthly maintenance of the website.
The Price of the Service
The price is individual for every client and it depends on the type of the project. It is mainly based on the functions which the client wishes to include (such as a mobile version and so on). Another important factor is the type of the online store (whether it will be for clothes, for shoes, and so on). Also important is the number of articles on offer there. The price varies depending on the deadline set as well.
Why choose us?
With the multitude of realize projects in the past 8 years as evidence, we guarantee the development of a finished product that meets the specific needs of every client. By choosing us you get the professional development of an e-store. We will make sure that it gets a memorable image, a beautiful design, and excellent functionality. It will be fast loading and easy to use, which will lead to a bigger user interest and, respectively, to a bigger profit.
An e-store must be optimized in order to be successful. We also offer a professional online store SEO service which guarantees its high ranking in search engines (such as Google) and certain sales.
Page Rules offers lucrative deals for a company website development. In our product catalog for website development, you can browse through a variety of old projects we have completed, all of them entirely according to the needs and goals of a specific business.
Trust our experience and you will get the desired business growth!